A Study of the Drug Isavuconazole to Prevent COVID-19-associated Pulmonary Aspergillosis
Volunteer for research and contribute to discoveries that may improve health care for you, your family, and your community!
a study on COVID-19 Aspergillosis Invasive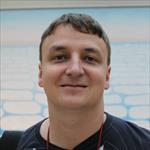 Description
Summary
Official Title
Details
Keywords
Severe Acute Respiratory Syndrome Coronavirus 2 Aspergillosis Invasive Isavuconazole Antifungal Agents Anti-infective Agents Coronavirus-associated Invasive Pulmonary Aspergillosis CAPA Coronavirus Infections Aspergillosis Severe Acute Respiratory Syndrome COVID-19 Pulmonary Aspergillosis Isavuconazonium Injection [Cresemba]
Eligibility
Locations
Lead Scientists
at University of California Health
Jeffrey Jenks

(ucsd)

George Thompson, MD

(ucdavis)


Associate Professor, Infectious Diseases. Authored (or co-authored) 151 research publications.
Martin Hoenigl, MD

(ucsd)


Associate Professor, Medicine. Authored (or co-authored) 244 research publications.
Details
Status

accepting new patients

Start Date

Completion Date

(estimated)

Sponsor

Jeffrey Jenks, MD, MPH

ID

Phase

Phase 3

Study Type

Interventional

Last Updated