Summary
Eligibility

for people ages 18 years and up (full criteria)

Location

at

UCSF

Dates

study start

estimated completion

Principal Investigator

by Pamela Munster, MD

(ucsf)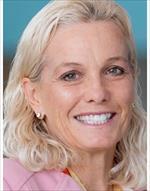 Description
Summary
The purpose of this phase 1 clinical trials is to determine whether niraparib (a Poly (ADP-ribose) polymerase inhibitor (PARPi)) can be safely combined with irinotecan with manageable toxicity and reasonable efficacy. Emerging evidence suggest that PARPi is an effective therapeutic strategy in a wider subset of solid tumors that may have defective homologous recombination (HR) or DNA repair gene mutations. BReast CAncer gene (BRCA), partner and localizer of BRCA2 (PALB2), and various other DNA repair germline mutations predispose carriers to cancers of the breast, ovaries, pancreas, prostate and melanoma. A number of preclinical studies have demonstrated that PARP inhibitors can work as chemopotentiators. There is significant interest in this combination, and the recommended phase II dose will be used in the upcoming NCI ComboMatch trial.
Official Title
Combination Therapy of Niraparib and Irinotecan in Cancers With Mutations in DNA Repair Genes
Details
This is an open label, non-randomized phase Ib dose finding study of niraparib and irinotecan combination therapy. For this study, individuals with metastatic solid tumor malignancies and BRCA1/2, ataxia telangiectasia mutated gene (ATM), or PALB2 mutations will be enrolled with specific tumors of interest including gastrointestinal cancers (e.g. colon, pancreas, gastric, cholangiocarcinoma), ovarian cancer, and breast cancer.
PRIMARY OBJECTIVES:
To assess safety and tolerability of niraparib and irinotecan combination therapy in patients with metastatic solid tumor malignancies and BRCA1/2, ATM, or PALB2 mutations.
II. To determine the MTD and recommended phase II dose of niraparib with irinotecan combination therapy.
SECONDARY OBJECTIVES:
To determine the preliminary efficacy of niraparib and irinotecan combination therapy in patients with metastatic solid tumor malignancies and BRCA1/2, ATM, or PALB2 mutations.
OVERVIEW:
Participants will be treated in cohorts of size three to six, and the dosage will be escalated if the clinical toxicity is acceptable. Participants may continue treatment until disease progression, unacceptable toxicity, withdrawal of consent, start of new anti-cancer therapy, or death. Participants will be followed for 30 days after study drug discontinuation for safety and every 12 weeks (+/- 2 weeks) for up to 2 years after start of therapy until disease progression or death from any cause (whichever occurs first).
Keywords
Metastatic Solid Tumor, BRCA1 Mutation, BRCA2 Mutation, ATM Gene Mutation, PALB2 Gene Mutation, DNA Repair Gene Mutations, Small Molecule Inhibitor, Poly (ADP-ribose) polymerase inhibitor therapy (PARPi), Irinotecan, Niraparib, Niraparib, Irinotecan
Eligibility
You can join if…
Open to people ages 18 years and up
Individuals 18 years of age or older.
Ability to understand and willingness to voluntarily sign a written informed consent document prior to any study-related assessments or procedures are conducted; and willing and able to adhere to the study visit schedule and other protocol requirements.
Solid tumors where topoisomerase I inhibitors have shown efficacy, including gastrointestinal tumors (e.g., colon, pancreatic, gastric cancer and cholangiocarcinoma), breast cancer, and ovarian cancer (prostate cancer is excluded), with one or more of the following DNA repair defects:

BRCA1, BRCA2, ATM, and/or PALB2 (based upon archival tumor tissue or germ line testing from any Clinical Laboratory Improvement Amendments (CLIA) approved lab). This testing must occur prior to study enrollment.

Presence of at least one lesion with measurable disease as defined by RECIST 1.1 criteria for response assessment
Advanced solid tumor malignancy without curative options
At least 5 half-lives or 3 weeks (whichever is shorter) must have passed since last anticancer therapy
The washout period for investigational agents without published half-lives should be 3 weeks since last therapy, and all treatment related toxicities must have recovered to less than grade 2.
Eastern Cooperative Oncology Group (ECOG) Performance Status of <=1 (Karnofsky > 60%; Appendix 1).
Adequate organ function:

Absolute neutrophil count (ANC) >= 1.5 X 109/L (no growth factors allowed within 14 days of enrollment)
Hemoglobin (Hgb) ≥10 g/dL (no transfusion allowed within 7 days of enrollment)
Platelets (plt) >= 100 x 109/L
Aspartate aminotransferase (AST) and alanine aminotransferase (ALT) <=2.5 x Upper Limit Normal (ULN), or AST and ALT <5 x ULN in patients with known liver metastases or known primary liver tumor(s)
Serum total bilirubin <= 1.5 x ULN
Creatinine <1.5 x ULN, or Estimated Glomerular filtration rate (GFR) >= 50ml/min by Cockcroft-Gault (http://www.mdcalc.com/creatinine-clearance-cockcroft-gault-equation/)

Must have recovered to less than Grade 2 (CTCAE v5.0) in terms of toxicity from prior treatments (excluding neuropathy which can be ≤ Grade 2, alopecia, nail changes/nail loss or other chronic minor grade 2 AEs).

Must be able to take oral medications.
Based on its mechanism of action and pre-clinical findings, irinotecan can cause fetal harm when administered to a pregnant woman. Additionally, the effects of niraparib on the developing fetus are unknown. Therefore:

Females of childbearing potential and their male partners are advised to practice a highly effective method of contraception during treatment with niraparib and/or irinotecan and for 180 days following the last dose for females and 90 days following the last dose for males. A woman is considered to be of childbearing potential unless one of the following applies:
Is considered to be permanently sterile. Permanent sterilization methods include hysterectomy, bilateral salpingectomy and bilateral oophorectomy.

ii. Is postmenopausal, defined as no menses for 12 months without an alternative medical cause. A high follicle-stimulating hormone (FSH) level consistently in the postmenopausal range (30 milli-international units per millilitre (mIU/mL) or higher) may be used to confirm a postmenopausal state in women not using hormonal contraception or hormonal replacement therapy; however, in the absence of 12 months of amenorrhea, a single FSH measurement is insufficient to confirm a postmenopausal state.

A male participant of reproductive potential is eligible to participate if he agrees to the following starting with the first dose of study treatment through at least 90 days (a spermatogenesis cycle) after the last dose of study treatment:
refrain from donating sperm.

ii. Must agree to use a male condom (and should also be advised of the benefit for a female partner to use a highly effective method of contraception as a condom may break or leak).

Highly effective contraception is considered to be a method with a < 1% per year failure rate. Recommendations for highly effective contraception while taking niraparib include:
Ongoing use of injectable or implantable progesterone.

ii. Placement of an intrauterine device or intrauterine system.

iii. Bilateral tubal occlusion.

iv. Complete (as opposed to periodic) abstinence

. v. Male sterilization, with appropriate post-vasectomy documentation of absence of sperm in ejaculate.

13. Human immunodeficiency virus (HIV)-infected individuals on effective anti-retroviral

therapy with undetectable viral load within 6 months are eligible for this trial.

14. For participants with evidence of chronic hepatitis B virus (HBV) infection, the HBV

viral load must be undetectable on suppressive therapy, if indicated.

15. Individuals with a history of hepatitis C virus (HCV) infection must have been treated

and cured. For individuals with HCV infection who are currently on treatment, they are eligible if they have an undetectable HCV viral load.
You CAN'T join if...
Any significant medical condition, laboratory abnormalities, which places the subject at unacceptable risk if he/she were to participate in the study at clinician's discretion and not otherwise stated below.
Prior allergic reaction to PARP inhibitor or irinotecan or their excipients. Prior PARP inhibitor or irinotecan (or topoisomerase 1 inhibitors) use is allowed.
Individuals with known toxicity to irinotecan (e.g., grade 3 or 4 neutropenia) or suspected sensitivity.
Individuals with homozygous or compound heterozygous UGT1A1 polymorphisms (e.g., alleles *28/*28, *6/*6, or *6/*28) predicted to be associated with medium-to-high risk of irinotecan-related toxicity
Individuals receiving any other investigational agents concurrently with the study drugs within 3 weeks or 5 half-lives, whichever is shorter, of the first dose of therapy preceding the study.
Participants with unstable brain metastases are excluded. Patients with a history of brain metastases (>1cm) are permitted to enroll if they have been treated and have been stable for a minimum of one month on imaging. Patients may not currently receive steroids for their brain metastases. Patients with small, asymptomatic brain metastases (<1cm) may enroll.
Individuals with a second primary malignancy
Individuals with a prior history of posterior reversible encephalopathy syndrome (PRES)

Individuals with systolic blood pressure >140 mmHg or diastolic blood pressure >90 mmHg that has not been adequately treated or controlled

10. History of a malabsorption syndrome or uncontrolled nausea, vomiting, or diarrhea that

may interfere with the absorption of oral study medication in the opinion of the investigator.

11. Known or suspected diagnosis of Myelodysplastic syndromes (MDS) or Acute myeloid

leukemia (AML).

12. Known Gilbert's disease 13. Individuals who are pregnant and/or breast feeding, or expecting to conceive children

while receiving study treatment and/or for up to 180 days after the last dose of study treatment.

14. Inability to comply with study procedures or unwilling to use adequate highly

effective contraception
Location
University of California, San Francisco

accepting new patients




San Francisco

California

94143

United States
Lead Scientist
at University of California Health
Pamela Munster, MD

(ucsf)


Professor, Medicine, School of Medicine. Authored (or co-authored) 145 research publications
Details
Status

accepting new patients

Start Date

Completion Date

(estimated)

Sponsor

University of California, San Francisco

ID

Phase

Phase 1 research study

Study Type

Interventional

Participants

Expecting 24 study participants

Last Updated