A Study of the Safety and Effectiveness of Experimental Uproleselan With Chemotherapy for Acute Myeloid Leukemia (blood cancer)
a study on Acute Myeloid Leukemia Leukemia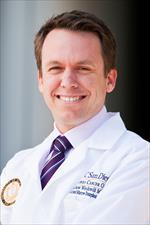 Description
Summary
Official Title
Keywords
Acute Myeloid Leukemia AML Relapsed AML Refractory AML Leukemia Leukemia, Myeloid Leukemia, Myeloid, Acute Uproleselan Uproleselan (GMI-1271)
Eligibility
Locations
Lead Scientists
at UC Health
Matthew Wieduwilt, MD, PhD

(ucsd)


Associate Clinical Professor, Medicine. Authored (or co-authored) 22 research publications. Research interests: Acute lymphoblastic leukemia (ALL) · Acute myeloid leukemia (AML) · Bone marrow transplant · Clinical trial design and conduct.
Brian Jonas, MD

(ucdavis)


Assistant Professor, Hematology and Oncology. Authored (or co-authored) 46 research publications.
Details
Status

accepting new patients

Start Date

Completion Date

(estimated)

Sponsor

GlycoMimetics Incorporated

ID

Phase

Phase 3

Study Type

Interventional

Last Updated